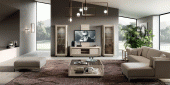 ← Previous Elite Day Sabbia Entertainment Additional items
Next Essenza Entertainment Center →
← →
You may also press keyboard arrows
or click at page corners for navigation
TV Stand with 4 Doors
Shown with optional TV Stand w/4 Doors
Coffee Table with storage
With Straight Handles - Available for SPECIAL ORDER!!!
Prestige Entertainment
Item Description
*Geometric shaped handle designed by our
architects to satisfy the most demanding taste.
*LCD cabinet with essential and plane lines designed to let
you enjoy with style your free time.
* Coffee Table hides inside a spacious
storage for bottles, perfectly integrated with the base.
Materials: Wood veneer, Glass, Stainless Steel
Finishes: High Gloss Lacquer
Inventory is updated on 02/03/2023
The inventory quantities are subject to change, please call office for more updated information
Total price:
(MSRP)
$5,640.00