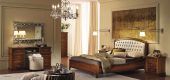 ← Previous Nostalgia Night Walnut
Next Torriani Night →
← →
You may also press keyboard arrows
or click at page corners for navigation
Torriani "VIP"
Item Description
Camelgroup bedroom is now available for a particular client who likes unique details, classic and elegant lines.
Night tables, dressers and seven drawer chest have "wave" curved fronts with typical Camelgroup carvings.
Wood tops follow curved drawers shape and enhance the value of a hand-made crafting.
Modern Bedroom
Special Order Product
King/Queen Size
Materials: Special Order Materials
Finishes: Special Order Finish
Swatches
Camelgroup Swatches
Inventory is updated on 03/05/2021
The inventory quantities are subject to change, please call office for more updated information
Total price:
(MSRP)
$6,043.75