← Previous Carrara Bedroom Grey w/Light Coming soon !!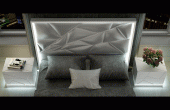 Next Kiu Bedroom Additional Items →
← →
You may also press keyboard arrows
or click at page corners for navigation
Treviso Bedroom Additional Items
Item Description
The new finishing Treviso reveals the unique beauty and versatility of the eco-stone surface, a resistant and durable technical material. Warm color, Mediterranean and fine wrinkled texture combined with high gloss white color and chromed handles.
*Soft Closing Drawers
*Color: White - Grey Stone
Materials: Wood-based panel, Special Order Materials
Finishes: Mat, Shiny, Special Order Finish
Inventory is updated on 09/24/2021
The inventory quantities are subject to change, please call office for more updated information
Total price:
(MSRP)
$2,154.00